Yangon -- 19 September 2019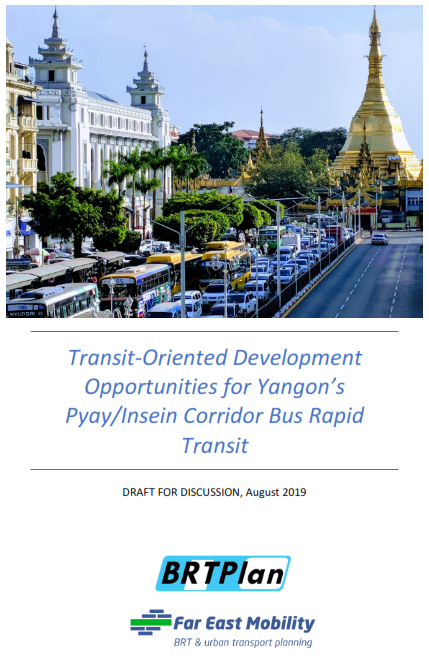 As part of research funded by the Rockefeller Brothers Fund to promote best practices in Bus Rapid Transit and Transit-Oriented Development (TOD) in the region, BRT Planning International and Far East Mobility have developed a preliminary plan to incorporate TOD into ongoing Yangon BRT and mass transit system planning.
A Cities Development Initiative for Asia (CDIA) project was completed by Far East Mobility in 2018 to carry out a feasibility study for bus priority, traffic management, parking and pedestrian facility improvements in Yangon, focusing on the Pyay Road corridor and downtown. The proposed Busway corridor features bus routes carrying a third of all bus trips in Yangon and would constitute the most important high-capacity Busway corridor in Asia since the Guangzhou BRT in 2010. The proposed BRT corridor is shown following, together with the scope of the pedestrian facility and parking improvements in the downtown area. (Pedestrian facility and parking improvements are also proposed along the Busway corridor, especially to improve access to Busway stations, and are incorporated into the Feasibility Study.)
However, none of the current urban development, mass transit or TOD plans for Yangon have considered the BRT corridor, which has not yet been formally approved or adopted, and the circular railway upgrading project does not include detailed TOD plans. A key weakness of various urban design plans in the CBD area is that bus-based transit is ignored. Meanwhile the BRT planning carried out during 2018 incorporates many elements of TOD, including transit, parking and pedestrian facilities, but does not comprehensively address TOD and the opportunities for BRT station area development.
This report aims to at least partly fill this gap and complement the BRT planning work, providing a mechanism for Yangon to achieve TOD focusing on the BRT corridor. Many of the same approaches can also be applied to the ongoing circular railway system upgrade.
Yangon is in the relatively early stages of a highrise construction boom, but severe traffic congestion will worsen along with deteriorating accessibility if the new construction does not adopt transit-oriented development approaches.